OOFOS Women's OOlala Luxe Sandal
---
By Katja Hurt
---
Follow us on INSTAGRAM @ireviewgear
---
Just the Facts:
The OOlala Luxe sandal features revolutionary OOfoam™ technology that absorbs 37% more impact than traditional footwear foam materials to reduce the stress on your feet and joints. This technology aids in the recovery process and creates an incredibly comfortable sandal you can wear anywhere. This feminine silhouette has slightly narrow footbed compared to the OOriginal, which compliments every outfit, day or night. Our Luxe treatment features hand-painted details that are unique to this OOlala style.
FEATURES
Reduces stress on sore feet, knees, and back

Enables more natural motion

Minimalist construction for lightweight

Machine washable, plus moisture and bacteria resistant
---
My Story:
Put me in hiking boots for several days and my feet will be fine; send me out on the convention center floor for several hours and they will be miserable. At least, that is how I felt until I tried on a pair of women's OOFOS sandals. Do not take it lightly when I say that OOFOS has created a life-changing product!
I spent a full day on my feet in my usual hiking shoes, walking approximately eight miles around the convention center in Denver, CO. When I got back to my room that evening, my feet were aching and I noticed several hot spots had formed. The next morning, my feet were blistered and screaming as I swung my legs out of bed and tried to stand. Not a good sign when another full day of walking was ahead of me!
The prospect of putting on shoes was agonizing and I glanced around for a temporary solution. My eyes fell on the lovely OOFOS OOlala Luxe Sandals that I had acquired. I slipped them on nervously, uncertain how my blistered toes would react… and I felt nothing. Blissful, tender protective nothing. The design of the OOFOS sandal provides a single structure without uncomfortable seams, ridges or edges. The cushioning technology is truly amazing–there was no pressure on any of my hot spots of blisters, and each aching part of my foot was perfectly padded.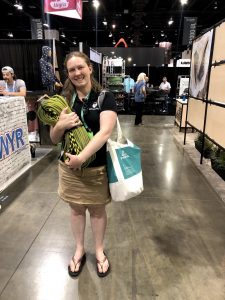 I wore the OOFOS sandals around the rest of the day and kept them on for the entire two-day drive home from Colorado to Washinton. On the way, I stopped and explored roadside parks, walking trails, and plenty of pavement as I stretched my legs in between long stretches of road. The OOFOS OOlala Luxe Sandals provided endless support and comfort for the drive back and I now wear them whenever I can for general comfort and recovery from a hard day adventuring.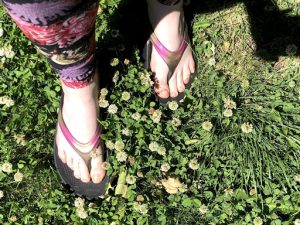 Update: the original review for these sandals was completed in July–it is now December and I am happy to report that the OOFOS sandals remain intact, functional, and comfortable. They have been dropped in the water, worn in the city, and tried out on trails while walking my dogs… and they are still going strong!
---
Find it Here:
https://www.amazon.com/OOFOS-Womens-OOlala-Sports-Recovery/dp/B07H3Y59P6
https://www.oofos.com/collections/women/products/womens-oolala-luxe-sandal-rose-gold
---
What can be done better?
Sell them in multi-packs because I want them all!
Functionality

Value

Ergonomics

Durability