Pelican V800 Vault Double Rifle Case
---
By Cory McLaughlin
---
Follow us on INSTAGRAM @ireviewgear
---
Just the Facts:
Built for hard use, high impact and supreme weather resistance, new Vault series gun cases are the most rugged and secure in their class. Equipped with a host of premium protective features at a price more hunters and shooters can afford, as only the 42-year veteran of hard knocks could deliver.
Six push button latches offer secure closure with easy-open access
Four stainless steel lock hasps afford extra security during transport
Carry two scoped rifles with absolute confidence
High-impact polymer assures protection of your firearm, via road, trail or air
Crushproof, dustproof, and weather resistant
Heavy duty handles are ergonomic and will stand up in even the toughest conditions
Five layers of protective foam
Interior (L×W×D)
53.00 x 16.00 x 6.00 in
(134.6 x 40.6 x 15.2 cm)
Exterior (L×W×D)
56.11 x 19.15 x 6.65 in
(142.5 x 48.6 x 16.9 cm)
Lid Depth
1.57″ (4 cm)
Bottom Depth
4.43″ (11.3 cm)
Total Depth
6″ (15.2 cm)
Int Volume
2.94 ft³ (0.083 m³)
Padlock Hole Diameter
5/16″ (8 mm)
Weight With Foam
24.95 lbs (11.3 kg)
Weight Empty
19.60 lbs (8.9 kg)
Wheels
2
---
My Story:
When you drop thousands of dollars on a rifle and high quality optics the last thing you want to do is throw you rifle into the back of the truck unprotected. If you are going to fly to some exotic land or just to a neighboring state it's not like you can just put a rifle in your luggage. Let's face it, if you own a rifle you need to protect it and what better way to do that than with a quality rifle case. Pelican has just the tool for the job.
Pelican has long been known to make some of the best protective cases on the market. Pelican is pretty much the gold standard in sensitive item protection and it stands to reason that they would be on any serious marksman's list of cases to consider. The only catch is the quality usually comes at a high price and while you certainly get what you pay for in Pelican products they don't always have to break the bank. Pelican introduced the Vault series of cases to offer a more affordable option while still providing unparalleled protection.
I am a hunter and target shooting enthusiast and because of this I absolutely require a protective case. My travels take me all over the west and when the roads are full of bumps and uncertainty I can now take solace in knowing that my weapons are riding comfortably and securely in a high quality crushproof case. Other great features are the integrated wheels for transporting this massive vault.
For those that fly you will love the sturdy latches that also have the ability to be locked.
When I first received the V800 I had a difficult choice to make. What guns am I going to put into this thing? Well, sometimes the choice is made by circumstance and I just so happened to have a trip into Idaho planned. I needed to take my main rifle and also a backup. So, I decided that I would be placing my Nosler M48 LR and my Ruger American Predator into the case. I set out to cut the foam and get the case into working order. After tracing out the shapes of the rifles I used a blade to make the cuts. This proved to be a bit more work that I thought as the standard razorblade was not long enough and I settled on a blade from my Gerber Vital knife as it was long and sharp.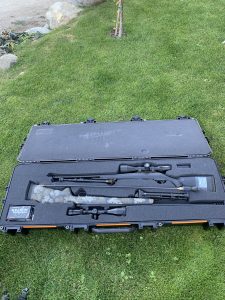 With rifles securely tucked into their new home I loaded my truck for the trip. Hours later I was standing on the side of a mountain road extremely irritated as I assessed the damage to my vehicle. I had lost control on the decent of a steep road that was covered in ice. My truck hit a tree as a result of this and while I was uninjured and everything still worked my truck was a bit banged up. The collision was pretty abrupt and I had worried a bit about the zero of my rifles. In case you are looking at the truck thinking " That does not look that bad" you would be thinking just as I was. If felt far worse than it looks but the real hit was in the pocket book. The picture below shows $6300 worth of damage. LOL I guess the dirt makes it look like less.
Before we made camp I decided to check the zero of both of my rifles. I pulled each one from the V800 and fired. They both performed flawlessly and I was again confident in my weapons and extremely thankful for this fantastic case that kept them safe.
I have used this Pelican V800 for a few months now and on several hunting and shooting trips. I would be a liar to guess how many times I have opened and closed the latches or rolled the wheels across different terrain. I have certainly put this case through the ringer and I am happy to report that I never experienced a single issue with this great case. Dust, rain, snow, car accident and whatever other kinds of bumps and falls never seem to shake this great case. This is a very affordable protection option for your rifle at $200. It sure did help me by keeping my rifles safe and shooting true to zero which allowed me to fill the freezer!
---
Find It Here:
https://www.pelican.com/us/en/product/cases/double-rifle-case/vault/v800?sku=VCV800-0000-BLK
---
What can be done better?
I would like to see the foam come with the pull 'n' pluck style foam. I just like the idea of being able to fit your weapons into the case without having to use a long knife to cut the foam. Other than that it think this is a great rifle case for the money and I expect it to stand up to Pelican's great reputation.
I give this case 4.75 stars!
Functionality

Value

Ergonomics

Durability