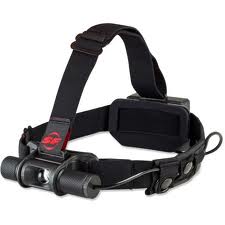 SureFire St. Minimus LED Headlamp
Editor: Randy
---
Basic Description:
A lightweight, extremely tough LED headlamp.
The Facts:
The Minimus is identical to Surefire's Saint except that instead of a full sized battery pack and cables this "little gem" runs on a single 123A battery contained in a module that screws directly into the light assembly. The Minimus produces a wide, adjustable light beam that optimizes your field of vision. Adjustment from 0 to 100 lumens can be done with one hand—even cold or gloved—using a built-in variable light-output dial. Engineered from hard-anodized aerospace aluminum, the Minimus is rugged enough to withstand any and all abuse by hunters and mountaineers. This hardcore headlamp is also submersible to 3 feet for up to thirty minutes. The fine-mesh headband features a moisture wicking Breathe-O-Prene pad that provides unmatched comfort and dryness.
---
Story:
When I'm out bushwhacking in some of the toughest canyon and high desert terrain that southern Utah has to offer it is absolutely essential that the equipment I'm using will not malfunction. It must perform to my highest expectations. On more than one occasion I've been stuck out on the mountain after dark and have needed a headlamp that will provide me with the necessary light to cut through the black night, guiding me safely back to my spike camp while maneuvering through ledges and rugged landscape.
This is why I appreciate Surefire's Minimus. "In the simple language of a hunter," this little brute kicks some major butt! When I turn my Minimus on and adjust it to 100 lumens I feel as if a "spotlight" has just lit up the dungeon like darkness of a remote mountainside.
On countless extended backpack scouting and hunting trips for trophy rams I have found the weight of the Minimus, at 3.3 oz with battery to be very minable for a weight conscious sheep guide where every ounce makes a difference. It is also extremely comforting to know that the Minimus is basically indestructible. Over the years I've had to drag backpacks up over cliffs and taken a few bad falls that have broken other headlamps and gear, but with the Minimus, I know that it can take any punishment I dish out.
With some headlamps I have found the battery cables and adjustment buttons to be somewhat cumbersome. When I'm crawling through thick PJ and oak thick enough to make a grown man cry I don't want a headlamp to get jerked off or go tumbling off a ledge. With the Minimus, everything is contained up front. I can easily access the dial with one hand, gloved or not, to turn the device on, off, or adjust the output dial to as low as 1 lumen or up to the maximum 100 lumens. For emergency situations, there is also a built-in-SOS beacon. I actually found myself in a dangerous situation once where I was stranded in some ledges after dark with an injured hiker and could have utilized an SOS beacon to guide rescuers to us through some daunting terrain.
Battery life is always an issue with hunters, backpackers, mountaineers, etc. I've found that if I keep the Minimus turned down it will maintain a bright light for up to 50 hours. Leave the beam on at full power and it will run for 1.5 hours. In my opinion, it's a must to use lithium batteries. On my backpacking trips I always carry extra batteries for my headlamps in case of emergency situations.
Ok, what about the price? At $139 many outdoorsman might consider this to be overkill for a headlamp. However, as I said earlier, "when I'm out on the mountain in dangerous terrain I want the best equipment available." If you have ever been caught in an unforgiving situation anywhere on a totally dark night, miles from anywhere with no light, then you know what I am talking about, and demand a product that is not going to fail you. The Surefire Minimus meets these demands!
---
What They Could Do Better
There is not much Surefire can do to improve on the Minimus unless their engineers decide to construct it out of Titanium!
---
Where to Buy:

SureFire St. Minimus LED Headlamp Review
Functionality

Value

Ergonomics

Durability