BUYER BEWARE —— DO NOT BUY THIS GUN!!!
---
---
As admirers of many of the Kel-Tec guns and their innovation in the industry, it hurts to throw such shade on a great brand. However, the Kel-Tec Sub-2000 is obviously not ready for prime time and we cannot recommend buying one until serious issues are resolved.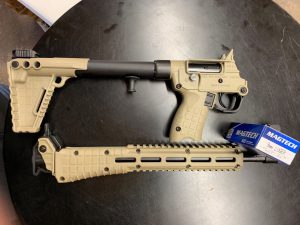 Gun Broke in Half!!!
First, as soon as you go to the Kel-Tec web page, https://www.keltecweapons.com/, you get a pop up warning of a recall that states the following:
"Attention Customers
IMPORTANT SUB-2000 SAFETY RECALL NOTICE
We have recently identified an issue with the heat treatment of certain steel tubes received from a third-party supplier from which the barrels for a limited number of Gen 2 SUB-2000 rifles were manufactured. This could potentially cause the barrel to rupture when a cartridge is fired and could result in serious personal injury. The safety of our customers is our primary concern, so Kel-Tec has voluntarily initiated this recall because of the possibility of a barrel rupturing.
This recall only affects a portion of Gen 2 SUB-2000s that were manufactured in 2017. Gen 1 SUB-2000s are not affected.
To check if your firearm would need to be sent in for barrel replacement, please follow this link: SUB-2000 Recall
All costs associated with the recall of your firearm shall be covered by Kel-Tec."
I recently purchased a new Sub-2000 Gen 2 and I already have two Gen 1's. I spotted the barrel recall and my new gun did not seem to be affected by the recall. However, after taking the new gun to the range and firing six bullets, my gun litteraly broke in half and the front half fell in the snow.
Over a month later and Kel-Tec says that they don't have the replacement parts and don't know why the gun broke in half.
It is our hope that Kel-Tec can get the issues resolved with the Sub-2000 and go on to making innovative guns that buyers can rely on.
---
---
Functionality

Value

Ergonomics

Durability