---
---
Christensen Arms Mesa Rifle Review
---
Editor: Mike R.
---
Basic Description of Item:
Light Weight hunting rifle from Christensen Arms of Utah.
Stainless Steal, Cherekote barrel, composite stock.
Just the Facts:
Christensen Arms 416 Stainless Steel Billet
Receiver with Enlarged Ejection Port
Match-Grade Trigger (2.5-3.5 lb)
Billet Aluminum Machined Bottom Metal
Hinged Floor Plate
Improved Bolt Release
Internal Magazine, 4 Round Capacity
(3 Magnum)
BOLT
Twin Lug, Spiral Fluted
Nitride Treated
M16 Style Extractor
Fluted Bolt Knob
Dual Ejector (Magnum Calibers)
---
My Story:
I took possession of the Christensen Arms Mesa Hunting rifle chambered in 7mm Remington Magnum just a few months ago. I decided to top it with a Leupold VX5 HD 3-15 Scope. I set this rifle up for a gun that I was hoping could be used as a western states hunting rifle…reaching out to 800 yards.
My plan? Follow the break in procedure outlined on Christensen Arms Web page, Sight in for 200 yards, develop an accurate load, and reach out to 800 yards: SIMPLE
I began by shooting 2 different brands of factory loads.. 150 grain bullets.
I followed the break in process exactly as listed on Christensen Arms web site. During this break in process I was able to easily shoot 1.5 MOA with both Barnes and Hornady factory ammo.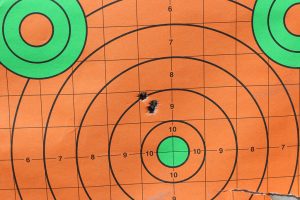 I finished the break in process after 3 trips to the shooting range, and then began working up a load. I chose the often used IMR 4831 powder, 150 grain Nosler Accubond Long Range bullets, Federal Match Grade Primers, and Nosler brass.
I will not walk you through the entire load work up process, but I eventually ended up with a load that seemed to shoot great! By the way, this was not a hard task, I could easily shoot 3/4 MOA with about anything I loaded up. AWESOME.
The Christensen Arms Mesa rifle performed above my expectations with factory ammo and with the loads that I produced.
Some observations I had during the approximate 100 rounds that I have put through the gun:
– The gun shoulders very well, and is easy to get a comfortable cheek press that matches your eye with the scope.
– The gun exceeded my expectation for accuracy
– The Mesa is light, but not quite as light as advertised
– The Mesa has a beautiful brake on it, but kicks a little more than other 7mm Mags with brakes, no big deal, just be aware.
– The Christensen Arms Mesa rifle handled about any load with a great deal of accuracy.


Summary:
Christensen Arms has made a great rifle in the Mesa. It looks great, feels great, and most importantly shoots great. The stock, barrel, and action all look and function flawlessly.
I have long been a critic of Christensen Arms, but this gun has turned me around.
This is a quality hunting rifle, and a definite BUY.
Well done Christensen Arms.
---
What could be done better?
This gun is spot on, and just a great hunting rifle!
---
Functionality

Value

Ergonomics

Durability