Anderson Detector Shafts
---
By Cory McLaughlin
---
Having a good metal detector is a nice feeling. Having a good mete detector with a BA aftermarket shaft is a great feeling! If you are a detectorist you are silly to look past Anderson Detector Shafts.
---
Just the Facts:
Length – 36″
Distance From End to Handle – 24″
Fits – Equinox 600, 800
Beach Finds Bag
Bag has 2 separate zippered-compartments with mesh bottoms to allow water and sand to sift though. Front pouch has an attached carabiner to secure rings, car keys or other found items. Made from heavy duty cordura material with corrosion resistant zipper and adjustable belt. 9.5 x 11 x 1 inch
---
My Story:
I have been having a blast testing out metal detecting equipment. As I have grown in my knowledge of this great hobby I have begun to think about upgrades. Metal detecting, as with most hobbies, can be as expensive as you want it to be as there are tons of aftermarket upgrades available. One such upgrade is the Anderson Detector Shaft (ADS). Anderson makes an array of shafts and they had a great kit for my MineLab Equinox 800.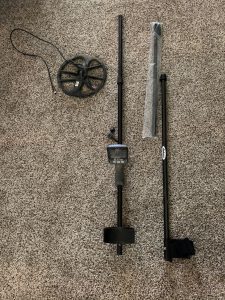 I freaking love my Equinox! It has been such a fun tool to use and I have found some great treasure with it. Out of the box it was a real champ and would work fine for years I'm sure. So why change out the stock shaft? Well, because I like to tinker and I like to try new stuff. Also because the Anderson Detector Shaft's carbon fiber shaft is the smart choice when detecting in water be it salt or fresh. The other great thing about carbon fiber is that it is not metal. I mean, I want to find the metal under the ground not the shaft of device looking for it. This is really something that matters only when you set your machine down next to a hole and your pinpointer picks up on the shaft. With the Anderson Detector Shaft that is never going to be an issue again!
The second thing I thought would be an improvement is that the carbon fiber of the shaft should be lighter than that of the stock aluminum/carbon shaft. Turns out that is not the case as there is about a tenth of an ounce difference in the two with the Anderson shaft being the heavier shaft.
Yes it was a bit heavier but it is so insignificant you would never even feel it. The big win with carbon fiber is that it is not susceptible to the corrosion issues that come with metal or wood. This is extremely valuable when detecting in salt water of damp environments. Longevity is something everyone likes to see in products they purchase and that is just what you are going to get!
The Anderson Detector Shafts Equinox shaft and lower rod are a fantastic aftermarket addition to your great machine. It is a sweet upgrade that looks fantastic and performs flawlessly. I don't think you will be able to go back to your stock rod after you make the change. I would fully recommend Anderson Detector Shafts to any detectorist looking to upgrade their setup. Here is a snap of a great hunt I was on in which I was able to help this nice lady find her lost car key.
I love this great shaft. If there is one area that I didn't get really excited about it was the arm support bracket. It is very wide and not overly padded. I am pretty sure this is to allow for use of a wet suit as ADS is heavily involved with the diving side of detecting. So, while it's not a huge deal it was my lone critique of this great product. I really think you are going to enjoy this product as much as I have. Good luck out there Detectorists!
---
Find it Here:
https://www.andersondetectorshafts.com/collections/minelab-shafts/products/equinox-carbon-fiber-shaft-with-lower-0837cf
---
What can be done better?
I am not in love with the arm bracket. Also, I don't love that I had to give up the "kick stand" that the stock shaft comes with. That said, ADS does have a great aftermarket kick stand that can be added to their awesome shafts and it is fabulous. I really think you cant go wrong with the great upgrade to an already awesome piece of equipment.
Functionality

Value

Ergonomics

Durability