Wolf and Grizzly Grill M1 Edition Kit
---
By Cory McLaughlin
---
Follow Us on INSTAGRAM @ireviewgear
---
Just the Facts:
· Features
Smaller in diameter than most water bottles, and weighing approximately 1 kg (2.2 lb)
Every component is made 100% 304 stainless steel and food safe
Quickly set up the grill or pack it away thanks to its two piece assembly
Easily adjustable for 3 unique height modes: 8", 6", or "stay flat" mode
With a load capacity of 30lbs, that's enough food for the whole crew
Compatible with Fire Safe for a beautiful and fully fledged cooking experience
Premium Materials
Every component of the Grill — from the frame legs to the bolts and screws — is made out of 304 stainless steel, ensuring that you don't need to worry about the low melting point of aluminum or the low stability temperatures of non-stick coatings. The frame, rods, and technical stainless steel aircraft cable makes for a sturdy, corrosion-resistant experience that won't have you wondering whether or not it can support you on your journey.
Compact Form
Smaller in diameter than most water bottles and weighing approximately 1 kg (2.2 lb), Grill M1 Edition is designed for everyday use. When you're ready to transport it, simply fold the frame, roll our cooking surface into it then zip it away into our included premium carrying case.
Two parts. That's it.
Unlike other portable grills, Grill M1 Edition is a two part assembly: a frame that you spread open and a cooking surface that you unroll and secure in place. Want to adjust the height of your grill? No problem, just move the stainless steel stoppers to your desired height mode.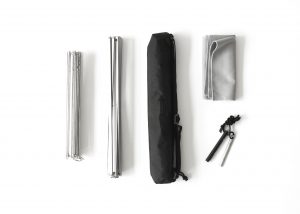 ---
My Story:
I do not believe it possible that any person reading this review has never consumed something that was cooked on some type of grill. We as humans have a fascination with grilling food and I do not see that ever changing. Lucky for all of use the industry has some really cool grills and gadgets out there for out ever growing passion for deliciously grilled food. Wolf and Grizzly heard the call and came up with the Grill M1 Edition Kit because well, things can always get better!
When I first received my Grill M1 I thought it was fantastic! It looked sleek and very 2019. It was not a huge hunk of ugly metal but rather a shiny stainless grill that's beauty was only surpassed by it's functionality. This is the grill we have all been waiting for!
Lets clear the air before we begin. I want to say that if you are looking for a grill that will handle the cooking needs of a 20 person cookout this is not the product you want. Could you do it? Yes you could, but it would take some time. The Grill M1 is best suited for 2-4 people in my professional opinion. So let's be realistic when we talk about what we should expect from this innovative grill. Here is a picture for size reference compared to a couple standard hot dogs.
As you saw in the picture above the grill comes with a carrying case, cleaning cloth and a fire starter with grill cleaner. It is portable and lightweight at 2.2 pounds so the whole package is designed to get you out grilling and help you clean up after your belly is full. What more could you ask for? Well, what I can do is go through the amazing features that while basic in design, they are extremely useful while in the woods or backyards of the free grilling world.
I love that the grill can be used with either charcoal or open fire cooking. If you spend time grilling food you will someday be charged with the problem of what to use for your type of heat source. It is great to know that with the Grill M1 that is never really an issue. Pile of logs or a pile of lump charcoal either way you will be grilling in style. My first testing of the grill was with charcoal right on the ground in my back yard. The burgers were divine!
Another feature I love is that the grill height can be adjusted to fit your grilling needs. You can choose from 8'' mode, 6'' mode or Stay-Flat mode.
This makes for an ideal grilling adventure. I found that it would serve as a great buffer to the grill face of a dirty state park or campground grill pit. With the Grill M1 you can rest assured that your grill surface would be clean and that is a great feature I know I will use often! It sure came in handy when my buddy Jesse brought up some fresh tuna steaks to our elk camp.
Setup and take down are a breeze and the compact lightweight kit can be taken nearly anywhere. I see this as the ultimate portable grill. I hope to pair this review to the Wolf and Grizzly Fire Safe which completes the whole "system" and would offer grilling option just about everywhere but on an airplane. Here is a snapshot from the Wolf and Grizzly website of the Fire Safe. Look for that review in the coming months.
What I found out about the Grill M1 is that from the back yard to the beach the Grill M1 does exactly what it is intended to do. I think this would be an excellent addition to any outdoor enthusiasts kit.
We used the Grill M1 for several cookouts on the beach while at the Oregon coast and it was fantastic. I really am happy with how well this system packed up and traveled in a small beach bag. The Grill M1 had no trouble in the fine sand was up for the job. It cleans up in a snap and stores back again into it's great case. You are going to love it! Think Christmas gift!
---
Find it Here:
https://www.wolfandgrizzly.com/products/the-wg-m1-grill-kit
---
What can be done better?
This is the first grill of its kind as far as I know and thus it stands out as a leader of the pack. I can find nothing that I would change at this time. I really love this great addition to my camping kit and plan to use it satisfy hungry people for years to come!
Innovative, affordable and functional making it a solid 5 star product!
Functionality

Value

Ergonomics

Durability