Lowa Ranger III GTX
---
Editor: Cory McLaughlin
---
Just the Facts:
This classic trekking boot features embossed waxed nubuck uppers for a rugged heritage look. With a one-piece design, and multiple comfort features such as the anatomically designed C4 Tongue and X-Lacing for precise foot hold, it's perfect for many miles of hunting and hiking, both on- and off-trail. Durably waterproof/breathable.
• Upper Material: Waxed Nubuck Leather
• Upper Protection: Rubber Rand
• Construction: Board Lasted – Cemented Sole
• Lining: GORE-TEX®
• Lacing: Hardware Open and Closed Hooks
• Additional Hardware: X-Lacing®
• Additional Hardware 2: Roller Eyelets
• Tongue Construction: C4 – Tongue®
• Insole: Climate Control Footbed
• Midsole: DuraPU™ with SPS System
• Sole: VIBRAM® Natural
• Stabilizer: Medium
• Country of Origin: Germany
• Weight (lb) 3.74
• Resolable: Yes

---
My Story:
Well here we are again my friends, sitting on the edge of some great metaphorical decision to climb or jump off the cliff. The action of climb or jump is really the metaphor here for how we will be spending our hard earned money in regards to purchasing a great pair of boots. After all, it's our money and we worked hard for it! So before we make a choice to either be cautious or just throw it to the wind and jump, we need to know why we are on the cliff in the first place. Let's hope it's because we are on the beginning of a new and great adventure.
I know that was a pretty goofy opening paragraph but it does not make it any less accurate. It's hard to part with hard earned cash especially when it is $300 for a pair of boots. The important thing to remember is that there are two ways to go about buying boots. 1- go and try them on or 2- blindly order them and hope for the best. These two choices are the equivalent to either climbing down or jumping off the cliff as outlined above. The point is that no matter how you get down your end goal is to have a great pair of boots on your feet. Lowa knows a thing or two about great boots and they want to make sure you find comfort in whatever adventure you undertake.
This is not my first time playing with LOWA or the RANGER GTX boots. I previously reviewed the RANGER II GTX boots, a review that you can view here http://ireviewgear.com/boots/lowa-ranger-ii-gtx-boot-review/ . If you don't have time to read that review let me just sum it up by saying I really liked them. So, what is new? What has Lowa done to make what was already a great choice of hunting/hiking boot even better? Aside from some fancy new looks, you might notice that they have used a different outsole changing from the Vibram AppTrail to the Vibram Natural. They are also about an ounce heavier than the Ranger II's. The last thing that you will notice is that they now specifically list that these Ranger III GTX boots are resolable, in fairness I am not sure that the RANGER II's are not as well but the site now clearly lists that the RANGER III's can be resoled.
I first used my RANGER III's on a family camping trip ahead of our annual archery tournament. In fairness I had been wearing the boots in and out of work for a couple weeks prior but this was the first really outing that I was able to test the boots on. So, first and foremost I had to test the waterproofing. As you can see below I really went for it.
I am happy to report that the waterproofing held up under complete submersion, rain, wet grass and multiple creek and small swamp crossings.
The next few days were littered with hiking, fishing, resting, and just overall outdoor fun- all done with the RANGER III GTX boots snug on my feet! The following weekend was the archery tournament and I was able to really hit the trail and do some shooting, standing, walking, and even a bit of running. Through it all my feet were comfortable and dry.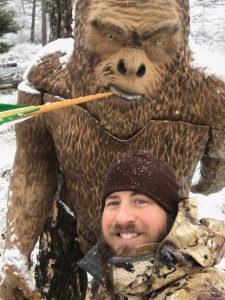 The lacing system is simply awesome and it will allow for very tight boots and that means minimal risk of injury and blisters. The ball bearing and X-Lacing tongue make sure everything stays were it should. Tight boots give support and peace of mind while traveling uneven terrain. I love a good lacing system! In my experience I have always had to be the guy that tried on boots in the store. I would not spend my money without first trying on the boots. This was the way I decided on my first pair of LOWA boots and since then I have owned several more pairs. I noticed a reoccurring theme in quality and performance and have absolutely no problem with blindly choosing a boot now as I am sure they will be great.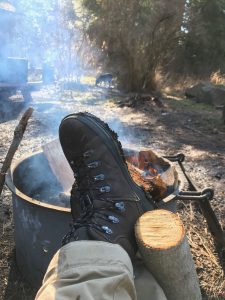 One thing that I will say is that I absolutely hate the stock insoles that come in nearly all boots from all manufactures and sadly LOWA is no different. The first thing I do is throw the stock insoles into the trash and replace them with a pair of SOLE or SuperFeet insoles. In a perfect world LOWA would team up with these guys and just use them in all their boots. I, myself, along with many others would gladly pay $30 more for the boots if they just used one of the above brands as the stock insole.
All in all the RANGER III's are every bit the boot of their former models. The love I had for the RANGER boots of the past has followed me into this new boot. I see many great miles ahead of me in this fantastic boot.
---
Find Them Here:
https://www.amazon.com/Lowa-Mens-Ranger-III-Hiking/dp/B013CL18TK
---
What can be done better?
Insoles. Other than that I do not see how this boot with its current design could be improved. Sure there are limitations to these boots but luckily LOWA has many other options to fill the gap where these boots might not fit.
I give these boots 4.75 stars
Functionality

Value

Ergonomics

Durability