Spot X with Bluetooth
---
By Cory McLaughlin
---
Follow Us on INSTAGRAM @ireviewgear
---
Just the Facts:
SPOT X provides 2-way satellite messaging when you're off the grid or beyond reliable cellular coverage. Connect SPOT X to your smart phone via Bluetooth wireless technology through the SPOT X app to access your contacts and communicate easily with family, friends, or directly with Search & Rescue services in a life-threatening situation. If preferred or when necessary, SPOT X can be used as a standalone communication device. SPOT X has its own dedicated U.S. mobile number, so others can message you directly at any time.
S.O.S.
Send an S.O.S. to the 24/7 Search & Rescue services, message back and forth about the nature of your emergency, and receive confirmation when help is on the way.
MESSAGE
Exchange messages with any cell phone number or email address from virtually anywhere in the world.
SPOT X APP
Easily connect the SPOT X device to the SPOT X app via Bluetooth and have satellite connectivity at your fingertips.
TRACKING
Choose 2 1/2, 5, 10, 30, or 60 minute tracking intervals, and track your adventure with SPOT's easy-to-use cloud-based mapping.
CHECK IN
Quickly and easily let everyone know you're OK.
---
My Story:
This is not my first rodeo with the great SPOT device. I previously reviewed the SPOT GEN3 and the first SPOTX and I really did love them.
This year I was really excited to review the SPOT X W/ Bluetooth. I arranged for a sample to be sent and had it all set up in time for my annual Idaho hunting trip. This has been a very positive testing area for me in the past as can be seen in the previous SPOT X review found here: (http://ireviewgear.com/cool-gear/spot-x/).
I started the setup at my home and found that it was much more user friendly this time around. The app was easy enough to download and use and I had the device activated and running in no time flat. I was happy to not run into some of the setup issues that plagued me in the past with the other devices that I tested. SPOT X was off to a great start!
It should be noted that you must select a service plan with a SPOT device. SPOT really made some great changes and their service options are so much better than they were in the past. I love that you can now select to go monthly "Flex Plans" or annually "Contract Plans" along with different levels of service. This makes the device more affordable for a wider variety of users and I really think this is a homerun! I am confident you will find a service plan that meets your personal needs. See the plans here: https://www.findmespot.com/en-us/products-services/spot-x#service-plans
With my device all set up Idaho was calling me. After loading my truck with all the essentials for an 11 day trip into the wilds I was ready to leave town. It always feels nice when heading into the backcountry knowing that I am still going to be able to stay connected to my family. Before I left I sent a few test messages from both the app and the SPOT X device and I was confident it was ready for this trip. During my pre-trip testing I noticed one major improvement, the keyboard was much better! My first round with SPOT X left me wanting to scream as I had to type out messages using a bullet point because the keyboard was so stiff. That is no longer the case and I count this as a huge win, Additionally, I find it amazing that I can also use my phone to type a message and send it through the SPOT X via the SPOT App. The APP really has simplified the process. Now, lets get back to the testing.
When I arrived in Idaho I was at the beginning of a rather large storm. The storm was so bad in fact that I had to stay in town for 2 days so as not to be snowed into the backcountry. Better to be on the town side of the mountains while the snow was falling. When we were finally about to head into our hunting area I was at ease as I knew that if anything went wrong I was going to be able to contact the outside world with SPOT X. It is a great feeling knowing that you have the ability to call help if needed. If I ever doubted the usefulness of the SPOT X those doubts were cast aside each mile I drove into the snow covered hills.
At camp I knew that people back home were waiting for an update. I typed out a quick message and propped up the SPOT X with a clear view of the sky. After the wall tent was set up I returned to the device to see that my people all had responded to me and they knew I was safe. My hunting partner was able to contact his wife as well, and after we knew people were in the loop, we set off for our evening hunt.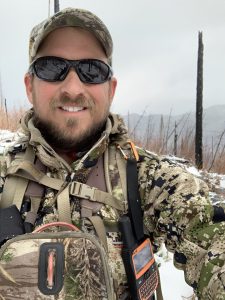 The following morning we awoke to a snow storm in what was already a pretty sketchy situation. The weather report, as usual, was not accurate and we were looking into a blizzard that was never meant to be. So, what were we to do? We had driven in over snow that was just about at the limits of what our trucks could handle and this was not going to make it any better. We were not on the friendly side of the mountain anymore and we had a decision to make. Do we break camp and escape or do we ride it out? It was in this moment that SPOT X became the most useful tool on the mountain.
I used the device to contact several people at home. I had left some family and friends with some specific information and sites to use to give us weather updates. After I sent the messages we eagerly awaited response. Our entire hunting trip hung in the balance. My device began to beep and each new message came back in. The group consensus was that the weather would break. We loaded our packs and headed out.
A few hours after receiving word that the storm would break we found ourselves deep in the Idaho backcountry and miles from camp. The snow had stopped falling and my hunting partner and I were standing over a nice bull elk. It was his first bull and he was to-the-moon excited about it. If not for SPOT X he would have never been able to fill his tag and bring home elk meat to his family. SPOT X saved his trip, and later, it would save mine.
Over the next 9 days I sent tons of messages to the other half of our group that had yet to arrive. I was able to contact my family and other friends. I had a lifeline and it brought me peace-of-mind that allowed me to hunt without fear or reservations. My hunting partner had to leave midweek and I was alone for two days. It was fantastic to know I had SPOT X as my partner even when I was alone. During this solo time I was able to harvest my own bull elk and SPOT X helped me notify the other half of my hunting party that they would have work to do once they arrived.
Before I go I want to hit a few of the features of SPOT X. Let's start with the phone APP. It was easy to download and set up. I loved that I could type messages on the phone as I am used to that keyboard. In the beginning I loved this feature. By the end of my trip I hated it. The app began to have issues staying connected. It consistently made me "Log In" forcing me to type the username and password every time I wanted to use it. It became such a frustration that I scrapped it all together and opted to just use the device and it's attached, and improved, keyboard. This was a pretty big bummer as the Bluetooth capability was the biggest change from the previous version of SPOT X. I'm told that updates have fixed this issue and I will also update this review if I find that this is no longer an issue.
Some of my other past frustrations, from the original SPOT X, were lack of service area and lost or never received messages. I am happy to report that those issues from the previous review seem to be all corrected. SPOT X is now relatively fast at sending and receiving messages along with a noticeably more consistent service area. This is a major improvement and one that I know any avid SPOT users will love!
Other notable SPOT X features are the preset messages and Check-In. This is a great feature that you can use to send email or text messages to a pre-determined group of people. Here is an example of an email from a SPOT X Check-In.
Spot X also allows tracking in intervals from 2.5 minutes to 60 minutes, a compass and waypoint marker and of course the most important part, the SOS feature.
Each of these were used during testing and I found them all to work as intended. SOS can be tested in ''test mode'' and is a very attractive feature and arguably the most important of all. It should be noted that you MUST log into your findmespot.com account and follow the directions for testing.
I would like to talk about battery life. SPOT boasts a 10 day battery life at ideal temperatures of 77 degrees and with a clear view of the sky. Let's be honest here guys and just say this is pretty unrealistic. If you are taking your SPOT X into the wilds you need to bring some type of charging device. The more you use the messages and other features the less battery life you have. I can't give an exact life on it as each day is different. I recommend charging your device every chance you have. If battery life is a concern as you cannot charge for multiple days it would be wise to minimize your communication, tracking and other features to get as much life as possible. I would guess under heavy use you would need to charge daily and under medium use about every 3 days. Just do yourself a favor and buy a power bank to go along with your device.
Lastly I would like to talk about what you get to see when you get home. If you log into you account through your PC you can view map that shows all the messages and check-in's that you sent on your adventure. This is a really cool feature and will help you know exactly where you were when you used the SPOT X.
I love SPOT X for so many reasons. I love that I can stay connect to family while out of cell service areas. I love that I can track my progress and view it on a map when I return to home. I love that I can share my location with family or friends in real time if I choose to. The thing I love most is the peace-of-mind that SPOT X brings to the outdoor adventurer. There really is nothing better than being outdoors in some of the wildest places imaginable and having the confidence to explore without fear of being stranded and unable to call for help if necessary. SPOT X is the tool you need to step up you adventure game. I know it has been a huge confidence booster for me and a comfort for my family. Fine job once again SPOT!
Video Review to come!
---
Find it here:
https://www.findmespot.com/en-us/products-services/spot-x
---
What can be done better?
I would love to see some work on the app. I really like the idea but it needs some help. I would also love to see SPOT find a way to use the device to show weather reports on the SPOT X itself or on the app. That would be out of this world awesome! Overall it is a great tool and something that I think every serious outdoor enthusiast should own.
Going to know half a star off due to SPOT X APP issues but I'm sure with updates those will not last long. I'll update this later if the issue is fixed.
Functionality

Value

Ergonomics

Durability