Slumberjack Deadfall 65
---
Editor: Cory McLaughlin/Johnny LeMaster
---
Follow us on INSTAGRAM @ireviewgear
---
Just the Facts:
Elevate Your Load: We wanted to elevate our meat hauling packs to the next level. The DST Deadfall pack is the culmination of serious product design, field research and good old fashion gear abuse. We wanted a sturdy pack that could haul out a serious load yet compressible enough for those minimal load days spent hiking ridge lines and exploring new territory. We took great care in designing the wings to accommodate your optics, scopes etc and that the front load flaps were versatile enough to securely hold awkwardly shaped items, while still being streamlined. Incorporating our tried and true dual aluminum stay frame and adjustable torso suspension, you are sure to get the perfect fit – no matter the load.
SPECS:
Torso: 17.5″ – 21″
Volume: 3950 cubic inches
Weight: 4 lbs 15 oz
DETAILS:
Adjustable trophy carry system accomodates various sized game
Stowable and versatile multi-weapon carry system easily transports your bow or rifle
Dual aluminum stay suspension with HDPE frame sheet easily handles heavy loads
Right HDPE reinforced hip belt: PALS system provides attachment point for accessory pouches
Forward pull waist belt buckle improves stability and ease of ease
Load lifters located to top cross bar provide enhanced fit and function
Side compression straps can be routed under or over side pockets providing improved access & compression options
Friction panel on lower lumbar improves contact with wet outerwear
Main side compression straps can cross over and mate together for additional compression options
Left side pocket easily accommodates large optics or field gear
Two side pockets on right side provide additional organization options
Top-loading design with adjustable lid and zippered pocket
Front Fabric shelf provides attachment options for bow carry & provides additional load support with or without the packbag
Hydration compatible
YKK zippers
---
My Story:
When It comes to backpacks you can spend about as much money as you want to spend. Packs can range from $50 to nearly $1000. So what does the sticker price mean as far as the quality and functionality of the pack? Not as much as you might think. Sure, I will concede that you typically get what you pay for but there are times that the sticker price does not meet the practical application. Luckily that is not the case with the SJK Deadfall 65 as you are getting more than you paid for with this pack!
I first tested the Deadfall pack in the backcountry of Idaho. During this hunt I had planned to hunt about 4 miles off the road and to do that I devised a plan to bike down an old logging road and create a base camp about 2 miles in. It was the perfect halfway point between the hunting area and my truck. From my camp I would hike another 2 miles into the hunting area and go from there. My first day was going swimmingly as my camp went together quickly and I was hunting about an hour and a half earlier than I thought I would be.
I loaded the Deadfall pack with all the things that I thought I might need for a evening hunt. I found the lid pocket to be the most useful for things like snacks and headlamps. The two smaller side pockets were reserved for my knife and some 550 cord. I put a small saw and Leatherman in the larger lower pocket. The longer pocket on the opposite side was used to hold my trekking poles. The main bag was for my water bladder and some rain gear along with a few other clothing items. Admittedly this pack was a bit overloaded for that evenings hunt but I wanted to be ready for anything as I had no plans of making it back to camp until well after dark. Lastly I used the small hip belt pocket to hold a small .380 caliber pistol that I like to bring along on nearly all my packing trips.
The pack felt comfortable on my back right out of the gate. I really like the waist belt and I felt like this pack was made to fit me. If I had only one complaint it was that I did not have a water bottle pocket. I am not a huge fan of water bladders but I used one on this trip as it was the only real option with this packs configuration.
I made it to my hunting area and soon after I was standing over nice mature bull elk. I was ecstatic and ready to get to work. I took my photos and got busy with the enormous task of quartering a bull elk out while all alone. I finished hanging all the meat in the trees and loaded the pack with the backstrap, tenderloin, and the head. I found the meat shelf to be extremely functional for holding the backstrap and tenderloin and the compression straps for the side wings worked amazing to hold the head. The whole pack was very secure and worked wonderfully as I packed myself back to my camp which was 2 miles uphill of my position.
I spent the next day packing meat from the kill site to an area that I had staged a small cart. I was hunting solo for the first few days and so I worked to get the meat to back to my truck and into town to find a meat cooler to hang it in. After finding a cooler I was back up the hill and hunting again.
A couple days later after walking all over the mountain I was lucky enough to spot a nice mule deer buck and make a good shot to put him down. I was 3 miles from camp this time and it was again all uphill. I spent the next hours boning out the buck and loading my pack. I got the whole deer plus the head and my gun all secured to the pack and then began the journey back to camp. I estimated the pack to be around 90LBS total with gear, gun, water, and meat. I loved that I was able to stow my gun securely using the support buttstock strap and side wing compression straps. It was a rough go but I made it.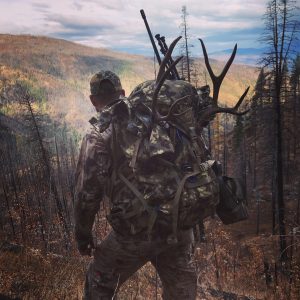 The next day my buddy Mark shot a buck about 1.5 miles from camp and due to him not having the correct pack we agreed that he would go back to camp for his pack frame and I would stay and bone out the buck. Well, I finished earlier than I thought and since the meat was not getting any closer to camp I decided to again load a whole buck into my pack and to take off walking. This time I didn't have a gun but this buck was much larger than mine so I guess the pack to be about the same weight.
I put just under 50 miles on my body during this hunt. I believe I gave this pack the best testing I could have asked for and found it to be worthy of the task. I think the meat carrying capability of this pack is fantastic and much more practical than some other far more expensive packs. This Deadfall 65 is worth every single penny of the listed $230 price.
My last testing area was during the Washington late archery season and while I was not lucky enough to harvest an animal during this season I was able to put more miles on this pack and I am happy to report that I was left with the same happy feelings. This is truly a great pack!
---
Johnny's Thoughts:
"The Slumberjack Deadfall pack has become my new go-to pack for hunting. I recently went on a three day late archery hunt chasing rutting mule deer in northeastern Washington. This was the first true opportunity to use the Deadfall pack outside of a few coyote hunts. Although I did not get a chance to put the pack through the true test of packing a trophy of antlers and meat, I did get some good use out of the pack.
The night before the hunt, as the snow began to come down only a few hundred feet elevation above where we sat, my buddy laid out the plan for the next days hunt. We planned to hike up and over a few mountains through miles of BLM land and wilderness. Not having been here before, and the weather getting nasty, I loaded my pack with extra food, cloths, and items I may need if we got into trouble. I still was trying to be conscious of not overloading my pack to make room for the venison I was anticipating carrying out. Wearing the pack all day for few days I hardly noticed I had it on me. The frame provided great support and the extra padding on the hip belt and shoulder straps along with all of the compression straps helped to balance the load and distribute the weight properly.
I love the size of the main compartment of the pack with the segregated section for a hydration system. I was surprised by how much extra gear and clothing I was able to carry without feeling tight on space or carrying a huge bulky pack. The large outer compartment is great for carrying larger items such as optics, or water bottles that you want to be able to access quickly. The two smaller compartments on the side and the compartment on the lid provide you with places to store snacks, and other small items that you want to be able to find with minimal effort. One pouch I really like that I didn't even realize I had at first was on the hip belt. This pocket was great for storing my wind checker and call in an easy and convenient place to be able to reach at any time without having to take off my pack.
Over all I love my SlumberJack Deadfall pack. Its made for all day comfort carrying a load with room to spare for the trophy you are chasing."
---
Find it Here:
https://slumberjack.com/deadfall-65/
---
What can be done better?
The only thing i was missing was a water bottle pocket. I think they could find a way to integrate some type of water bottle pocket by cutting a slit into the back side of one of the wings and that might be a nice addition. Overall this is a fantastic pack for the money and we really like it!
5 stars for now! Further use will determine durability and though I do not imagine that there will be issues I will update this review if any arise.
Functionality

Value

Ergonomics

Durability